I wrote about this incident last week, it was "Looks Like A Scene From Mad Max".  It is a disgusting display of aggression and attempt at intimidation by a gang of scumbag motorcyclists.  A husband and wife out on their anniversary with their 2yo child should not be dealing with this type of dystopian BS.
Well I found out this weekend that the story has gotten even more ridiculous.  There were somewhere between 2-5 of New York Swinest amongst this biker gang who were present during this incident.  One allegedly is an undercover Narcotics Officer (he was not undercover investigating this gang, he is a member).
It sure looks like they did nothing to protect the innocent civilians while their fellow members physically attacked the Range Rover.  The driver's wife hysterical called 911 repeatedly to no avail.  However many of these pigfuks that were present stood down and did nothing while this incident occurred and continued to escalate.
They did nothing as the group brought the SUV to a halt and stopped traffic on the entire highway behind them.  They did nothing when their club members attacked the vehicle.  When the driver went to escape they did not call in the incident.  A fellow "member" was run over and the officer(s) didn't call it in.  They did not call in the high speed chase and they did not call in when the driver was stopped in traffic, dragged out of his car and had a mudhole stomped in him.  A 50 yo civilian bystander (Sergio Consuegra) ended up stepping between them to stop the beating to end the assault.  The off-duty narcotics officer did not let his superiors know that he was present for 3 days.  If this video/incident hadn't gone viral and he wasn't 100% sure he would eventually be implicated I don't think he ever would have come forward.
When this story was brought to my attention by a buddy he was asking me what I would have done if my wife and I, who also have a 2yo, were in the same situation while out in my truck.  If a motorcyle gang such as this was messing with us I would have done all that I could to never have stopped my vehicle, PERIOD.  Forward or reverse, 2WD or throwing it in 4WD I would have kept moving and if necessary employ it as  a wrecking ball plowing through those scumbags bikers.  And if I would have been forced to a stop, then I would have used a firearm to defend myself and my family.
And that is where the additional twist comes in because some of the "members" were off-duty cops.  Under some circumstances people have been charged with "assaulting a police officer" for things as small as poking a plain clothes or off-duty pigfuk with their finger.
If this happened in Detroitadelphia (where I would have been legally carrying) and the off-duty cops also happen to be carrying, what would have happened if I would have been forced to fire on the bikers as they attacked me?  Would the officer had still not done anything or would he have finally made it known that he was a cop and tried to "restore order" by telling me to put my gun down.  I thinks it's a little too f#%ken late for that.  Imgaine yourself as the driver of the SUV, had a gun and used it for self-defense and then one of the gang members flashed a tin badge, barked they were a police officer after the ordeal you had already been through and pointed their gun at you and told you to put your gun down:  I know exactly what I would have done, do you?
None of us should be surprised by this.  The police are nothing but a gang themselves (the "real" gang in blue).  They have very large numbers of dedicated members who constantly protect their own along with a large section of the population (copsuckers) who almost endlessly give them slack and make excuses for them.  These pigs employ the use of force and constantly act aggressively against the people they say they serve (I can't even say or type that without laughing out loud).  And they proudly do it all (much of it immoral) under the veil of justice, law and order as if their monopoly on the use of force is a societal imperative. 
They are not there to protect you, it is a job and they are there to make a living (off of you).
NYPD Investigating Off-Duty Cops' Presence at SUV Driver Attack
Oct. 6, 2013
            By LINZIE JANIS, 
JOSH MARGOLIN
and 
AARON KATERSKY

Correspondent, ABC News
Senior Investigative Reporter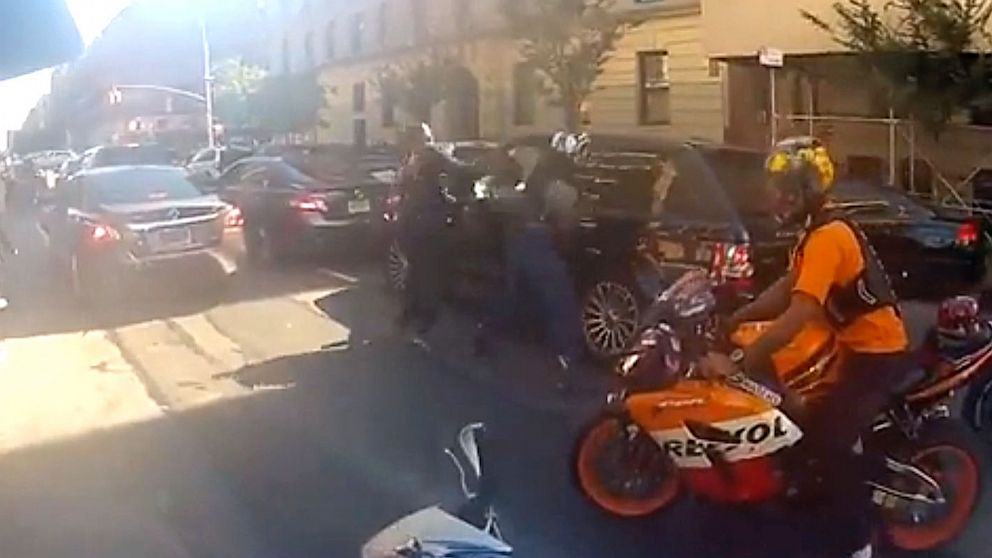 Caught on Tape: Victim Turns Tables on Alleged Attackers
Among those off duty officers was an undercover narcotics cop who came forward to his superiors days after the incident, according to officials. He did not get involved in the beating out of fear that his cover would be blown, sources said.
The cop's identity has not been released by the NYPD. The officer's involvement was also the subject of an Internal Affairs investigation, sources said.
Another other off-duty officer riding with the group was also believed to have been nearby when the incident occurred, sources said.
Police Release Photo of Person of Interest in Alleged SUV Driver Beating
Investigators are also looking into reports that there were three other off-duty cops who may have been near the sport bike ride that ended with the alleged attack on Range Rover driver Alexian Lien, but were not close enough to see the incident, officials told ABC News.
Lien was driving his SUV on the West Side Highway in Manhattan with his wife and 2-year-old as part of a wedding anniversary celebration around 2 p.m. Sunday, Sept. 29, when their SUV was surrounded by the motorcyclists, who were doing an annual ride through the city, police and Lien's wife said.
The bikers tried to slow traffic and one biker cut Lien off, slowing down and leading Lien to bump into the biker, police said. The group of motorcyclists then slowed down further and surrounded the SUV, and in response Lien accelerated away from the group.
Lien's wife, Rosalyn Ng, said her husband feared for their lives when he decided to take off to get away from the group. As he sped off, Lien hit some of the motorcyclists, critically injuring one, authorities said.
Other motorcyclists chased Lien's SUV and then bashed in his windows, pulled him out of the car, and beat him, police said.
Two men seen on video committing the most violent actions at the scene are in custody.
Robert Sims, 35, who allegedly grabbed the SUV's door about five minutes into the video, turned himself in to police Friday in Brooklyn, NYPD officials said.
He faces charges of gang assault, assault and criminal possession of a weapon, police said this morning.
Sims was arrested in 1998 for possession of a loaded firearm and a samurai sword, and he served eight months in jail, police said.
Reginald Chance, 38, of Brooklyn, also surrendered to police late Friday. He allegedly was the man seen on video using his helmet to smash the driver's side window of the Range Rover before the video cut off and the alleged assault took place.
Chance's possible role in the alleged assault beyond the window smashing was not immediately clear.
He was arraigned today in Manhattan Criminal Court on charges of gang assault, assault in the first degree, criminal possession of a weapon, menacing, and criminal mischief.
His bail was set at $100,000 bond or $75,000 cash, and he was due to return to court Oct. 11.
Chance and his attorney conceded the criminal mischief charge, admitting that Chance smashed in the window of the SUV, but said they will fight all the other charges.
Chance's attorney, Gregory Watts, said Chance was not a participant in any gang assault and that his client was a victim. He asked for a separate grand jury to investigate whether Lien committed a crime by driving into other cyclists, including his client.
Meanwhile, Sergio Consuegra, who is seen in NYPD fliers with his arms stretched out protecting Lien from the bikers, was honored in Washington Heights today for his bravery.
Consuegra told ABC station WABC-TV in New York that he intervened in the beating when he saw a biker grabbing Ng through the car window, telling her, "You're going to get it too."
Newly released photos show the SUV's passenger side window where Ng was sitting was smashed in, as well as the driver's side window.
"At that moment, I said I have to do something," Consuegra said. "There's a family in danger here and they're going to get killed. Nobody intervened in this situation and nobody's stepping in."
Consuegra said the biker left Ng alone after the crowd began screaming for help. Then, he said he saw a badly bloodied Lien on the ground, getting bashed in the head with a helmet.
"I went up there, right away to them, and I stood in the middle," he said. "I went, 'No. No, that's it. Let it go guys. You did what you did.'
"Then somehow, one of them moved, started moving and I said, 'Yeah, this is enough now,'" he said.
ABC News' Alexis Shaw contributed to this report.
Original HERE.